Group Simulations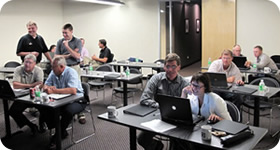 Hands-on Practice
Using futures and options to hedge commodities requires practice and skill to be effective. Our strategy simulations are designed to help hedgers develop and apply these skills during changing markets.
How Will This Help?
The web-based group strategy simulation advances through an actual market, allowing each team to choose trades and experiment with strategies.
Once the decision periods have passed, the system selects the winning team and provides a complete assessment of the different groups' strategies.