Beef Margin Seminar: Manage Risk and Harness Volatility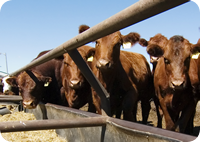 Total Continuing Professional Education (CPE) Credits: 16
This seminar is intended for feedlot owners & managers. The focus will be on our margin based approach to identifying opportunities and protecting profits. Participants will be introduced to the mechanics of futures and options and advanced strategies to manage forward profits. We include continental breakfast and lunch both days and you will be our guest for a cocktail reception the first day.
10/17/2012 – Day 1
Introduction to Beef Margin Management (2 CPE Credits)
Overview of how cattle feeding operations can protect profit margins by modeling forward profitability and utilizing various contracting alternatives.
Price Risk Management and Contracting Alternatives (2 CPE Credits)
Cash market versus futures market, understanding basis, price risk versus basis risk, contracting choices.
Networking Cocktail Reception
Immediately following the afternoon session, hosted by CIH.
10/18/2012 – Day 2
Review of Day 1 Concepts (2 CPE Credits)
Ensure participants have a strong understanding of foundational concepts before presenting new material.
Managing Basis Risk (2 CPE Credits)
Using futures spreads to mitigate the risk of strengthening basis values on feed purchases and weakening basis values on cattle sales.
Understanding Options (2 CPE Credits)
Comprehensive overview of options, including definitions/ terms, contract specifications, components of premium, expiration and exercise/assignment to futures versus offset.
Core Options/Futures Strategies (2 CPE Credits)
Using futures and options positions to establish a fundamental level of protection against the risk of higher feed and feeder-cattle costs as well as lower fed-cattle prices. An introduction to delta and looking at an option position in futures-equivalent terms will also be discussed along with volatility considerations in position structuring.
Core Strategy Adjustments (2 CPE Credits)
Factors — costs and benefits — to consider when weighing strategic position adjustments as prices fluctuate over time.
Profit Margin Simulation (2 CPE Credits)
An online simulation allows participants to test their ability to manage a beef operation's profit margin and risk exposure, and harness price volatility through initiating and adjusting futures and options positions over several market decision periods.
Participants will work in teams to make margin management decisions over several different time periods to manage both input cost and cattle sale revenue together as a single unit of risk. The trainer will be available throughout the simulation to answer questions and offer guidance.
At the end of the simulation, teams will be asked to share their strategies and the rationale behind their decisions. The session will conclude with a thorough review and summary of the opportunities and implications of the various hedging alternatives and strategies.
Participants will be furnished with a computer and position analysis software for the simulation.
Seminar Details
Registration fee includes breakfast, lunch, the evening cocktail reception and all seminar materials.
Register soon! The first 20 registrants will receive $300 off the seminar fee and one night stay at the Carrollton Inn.
Notice of cancellation must be received by 10/03/2012. Cancellations received after 10/03/2012 are subject to a $100 administration fee. Note that you may substitute enrollees to avoid scheduling conflicts.
For more information regarding refund, compliance and/or program cancellation policies, please call 312.596.7755.
Official Registry Statement

Commodity & Ingredient Hedging, LLC is registered with the National Association of State Boards of Accountancy (NASBA) as a sponsor of continuing professional education on the National Registry of CPE Sponsors. State boards of accountancy have final authority on the acceptance of individual courses for CPE credit. Complaints regarding registered sponsors may be addressed to the National Registry of CPE Sponsors, 150 Fourth Avenue North, Suite 700, Nashville, TN, 37219-2417. Web site: www.nasba.org
We're Located in the Heart of Chicago
Registration
If you prefer to enroll by phone,
please call 1866.299.9333.
Price
$550
Dates & Time
Oct 17th – Oct 18th
8:30 AM to 4:30 PM Daily
Learning Objective
Participants will be introduced to the mechanics of the futures and options markets and the terminology related to the futures industry. Participants will also learn how to utilize risk management strategies to manage commodity price risk.
Learning Level
Basic
Prerequisites
None
Advanced Prep
None
Delivery Method
Live
Location
120 South LaSalle Street, Suite 2200
Chicago, IL 60603
Travel Assistance
Please use the following links for more information to help with your travel plans:
Lodging - Downtown
Transportation - Trains
Lodging - O'Hare
Lodging - Midway